"Happiness, prosperity and peace will be firmly established on this planet – this is the very purpose of my life. All beings will live a life of fulfillment and harmony – this is my only material desire."
- Paramsadguru
---
Together we march towards a common goal; Together we declare our common goal; Let our minds unite and may all the differences cease.
- The Vedas
---
We are guardians of this Mother Earth – not consumers. We can find happiness if the world around us is harmonious and in merriment. This is Vishwa. Vishwa is a state of being, a mindset. Vishwa is an idea that our happiness and the happiness of the world around us are interlinked. One will lead to the other. When we help those around us find happiness and become contributors to the betterment of the world, we will truly be happy
- Dr. Purushottam
---
Vishwa is a Sanskrit word meaning the WORLD, our world. Vishwa is an institution blessed by the eternal and timeless wisdom and teachings of Param Sadguru Shree Gajanan Maharaj of Shivpuri, Akkalkot, India, that works towards bringing positive and sustainable changes in Our WORLD with a blend of ancient wisdom and modern scientific knowledge.
Located in the serene and picturesque precincts of the Shivpuri Vedic Yajnya Nagar, at Akkalkot in India, Vishwa is a multifaceted organization involved in spiritual, social, medical, cultural and environmental upliftment initiatives.
Through Param Sadguru's divine guidance and philosophy the foundation is creating elevated, socially committed, environmentally aware, and spiritually awakened individuals. It is an international non-profit, charitable organization, working in the field of social services and welfare projects creating an equilibrium with nature and enhancing human life.
Vishwa has a long tradition of carrying out various charitable initiatives in many different locations worldwide. While on one hand the institution works towards elevating the Self to greater heights; on the other it works towards creating harmony in the world around us. Because Vishwa believes that while the personal journey of self discovery is utmost important, one can't overlook or ignore pain and suffering of fellow beings.
"Service to mankind is service to God", is amongst the most important principles taught through the Guru Tradition. The philosophy stresses on the fact that serving (seva) should be an inevitable part of one's journey towards inner peace. Vishwa urges people to join us in our endeavor to reach out and bring healing to people and places in distress.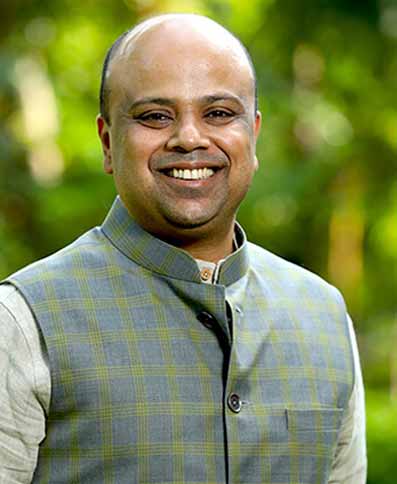 Dr. Purushottam
Introduction
"The spiritual and healing work of the past 150 years of my illustrious Guru lineage and the tradition of service of the last eight generations of my family is my spiritual ideal, mental goodwill and physical blessing."
Dr. Purushottam S. Rajimwale, is the President of Vishwa Foundation. He has has dedicated his life to spreading the message of peace and health for all and supporting various social causes. He is personally involved in everything that Vishwa Foundation promotes – Spirituality, Health, Ayurveda, Yoga, Education, Women empowerment, Green Energy, and so on. He holds a Master's Degree in Ayurveda from a well-known Indian university.